2023/10/23
Vycon introduces Canyon, Canyon Clay, Moondust, and Mylar Moondust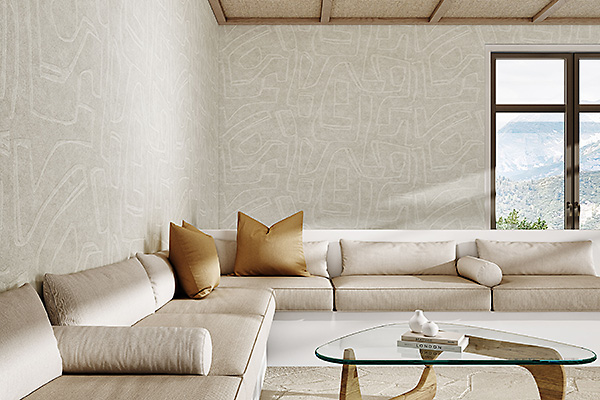 CANYON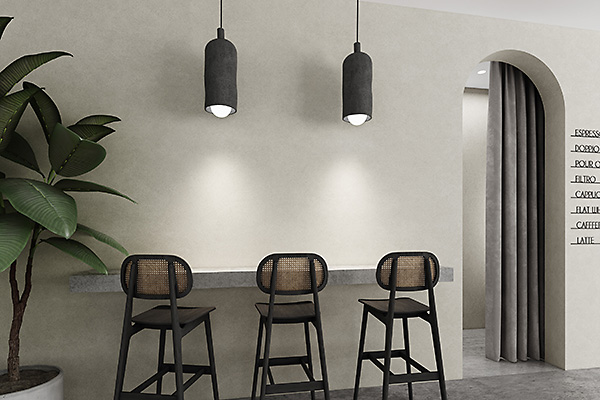 CANYON CLAY
Minimalism meets textural elegance in Vycon's Canyon and Canyon Clay. The raw and layered texture akin to the very stone it emulates beckons you to reach out and touch Canyon Clay. Canyon, the perfect partner, cherishes the unique characteristic of hand-carved stone. The organic shapes and grooves lead your eye and broaden the visual experience on a grand scale. The mineral-based palettes complement the naturalistic influence.
View Canyon swatches.
View Canyon Clay swatches.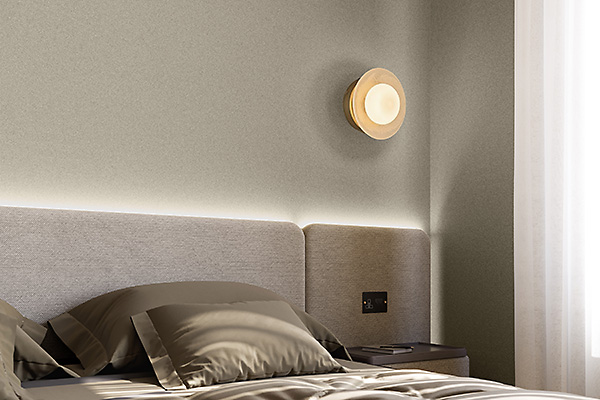 MOONDUST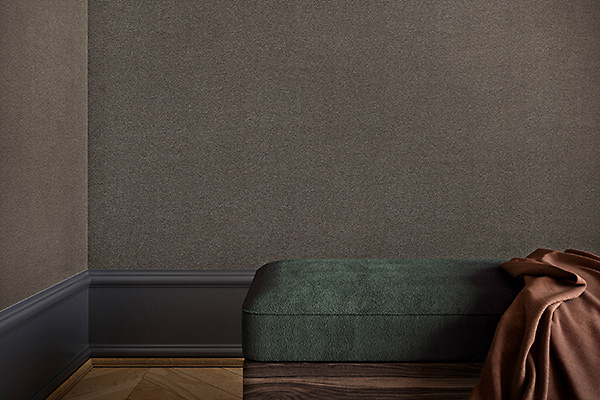 MYLAR MOONDUST
Unpretentious yet highly sophisticated, Moondust and Mylar Moondust rock the rich, luxurious look of natural stone texture. The beauty of this wallcovering lies in its subtle depth of color and the layering character of naturally occurring mica flecks. The overall effect of Moondust is genuinely authentic and realistic, while Mylar Moondust will have the walls dance, shine, and shimmer light through your space.
View Moondust swatches.
View Maylar Moondust swatches.
Canyon and Canyon Clay Video
---
2023/06/05
Vycon introduces Modern Metalline, Paris Silk and Paris Silk Nights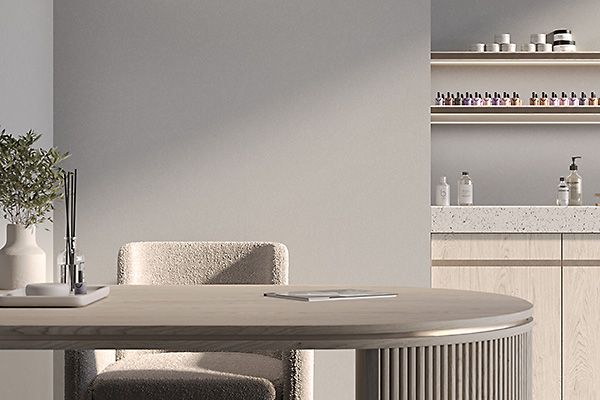 MODERN METALLINE
For those who appreciate the allure of understated, distinguished texture Modern Metalline has you and your walls covered. Drawing inspiration from its name, the 18-colorway collection embodies the elements of weathered raw layers, the perfect balance between edgy and refined. Don't let its initial simplicity fool you; with its sleek appearance and soft luster, Modern Metalline offers a deceptive luxe experience. View swatches.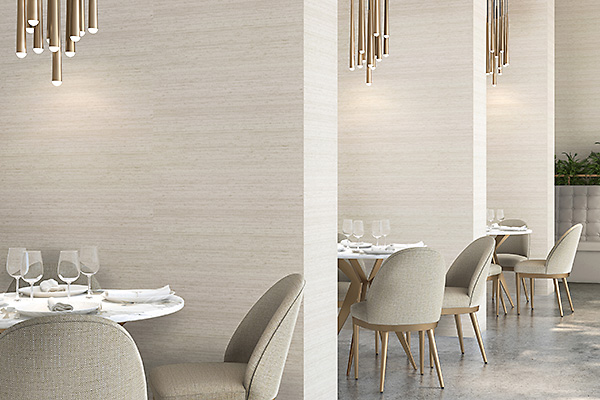 PARIS SILK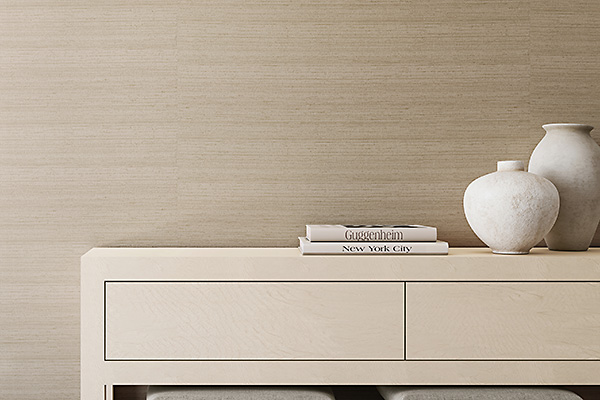 PARIS SILK NIGHTS
Experience the enchanting ambiance of a stroll along the Avenue des Champs-Elysees with Vycon's Paris Silk and Paris Silk Nights. The intensely tactile silk texture, painterly expression of color, and chic matte finish are alluring combinations in Paris Silk. Paris Silk Nights lures you into the "City of Lights," aglow with a sophisticated layering and metallic sheen that elicits the charm of Paris itself. These patterns are exquisitely colored in a targeted artist's palette to evoke the history of vintage fabrics and the refined worldly luxury Paris is known for.
View Paris Silk swatches.
View Paris Silk Nights swatches.
---
2022/12/19
Vycon introduces Hampton Grass, Hampton Stripe and Watercolor Damask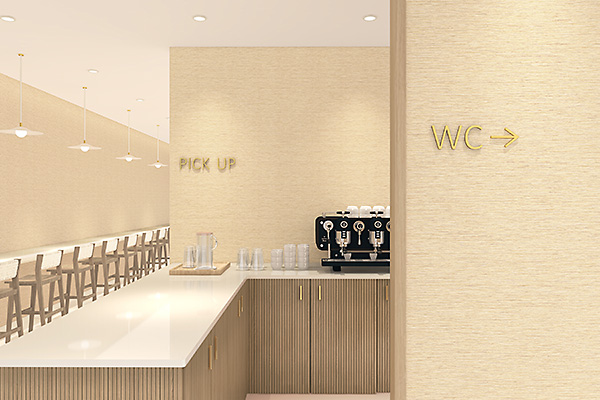 HAMPTON GRASS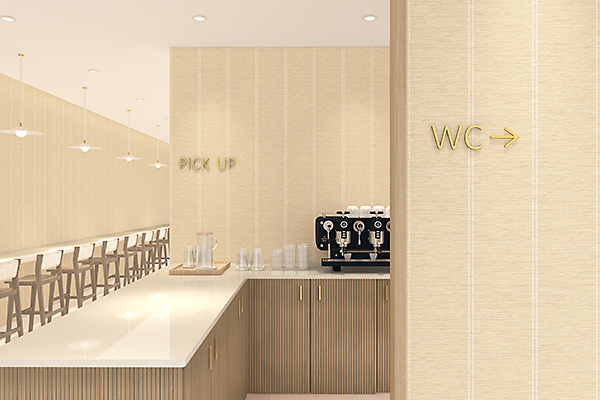 HAMPTON STRIPE
Cool and classic. Organic and refined. We love how our Hampton Grass and Hampton Stripe collection brings life into any space. This rich textured wallcovering offers a sophisticated mimicry of grass cloth, traditionally produced by skilled artisans, to create these timeless panels. Subtle shifts in color create depth in both patterns, while Hampton Stripe has a chic mini double stripe for that effortless and polished Hamptons vibe.
View Hampton Grass swatches.
View Hampton Stripe swatches.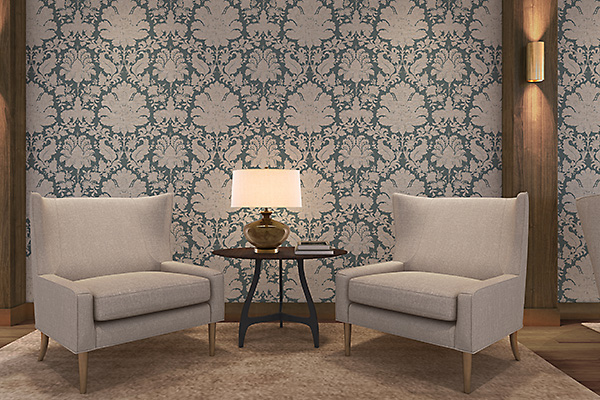 WATERCOLOR DAMASK
Give your walls all the character they need with Watercolor Damask. An organic pattern with a striking scale, textual nuances, and the perfect balance of modern and traditional. This pattern offers a palette of 8 colorways with a direct coordinate from Watercolor Canvas. Warm versatile neutrals like Ivory Pearl and Stone Canvas are synonymous with sophistication and luxurious style. While complementary accent colors like Blue Stone and French Mink highlight the rich history of damask and fashionable design elements. View swatches.
---
2022/06/06
Vycon introduces Weaver's Seam and Stacked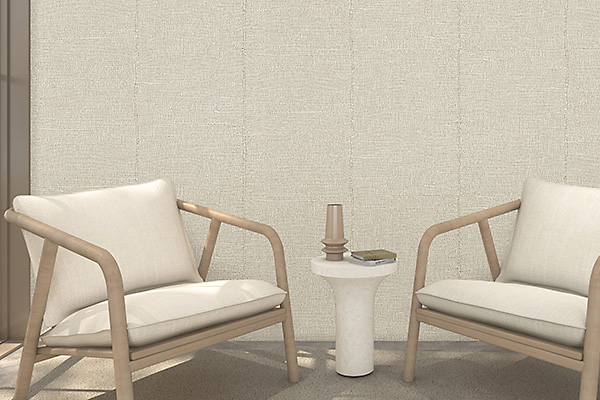 WEAVER'S SEAM
Immerse your surroundings in the look and raw feel of a handwoven textile. Weaver's Seam comes to life with the subtle nuances and movement created by the woven and stitched process. Stitching together the cloth sections creates a subtle stripe and offers a soft statement to your space. This targeted palette consists of natural shades with color casts to cover any need. View swatches.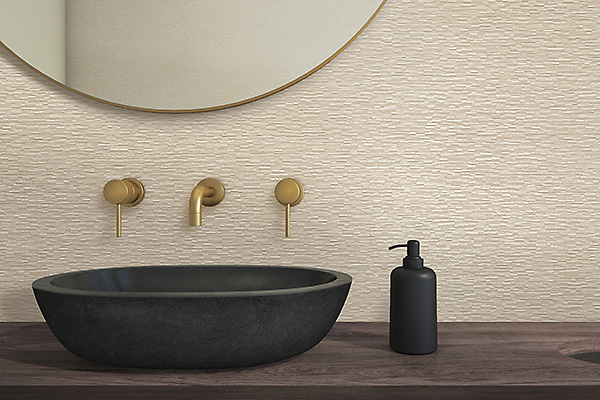 STACKED
Simple and elegant, Stacked is a contemporary simulation of tile wallcovering. Named for its inspiration of actual stacked tiles, the slight variations in size and texture create significant impact offering depth and dimension. Whether opting for matte stone finishes, spot-on trend colors, or gorgeous glazed clay shades, you'll be "stacking the odds" for the perfect setting! View swatches.
---
2022/01/02
Vycon introduces Hula, Hula Hana and Hula Big Hana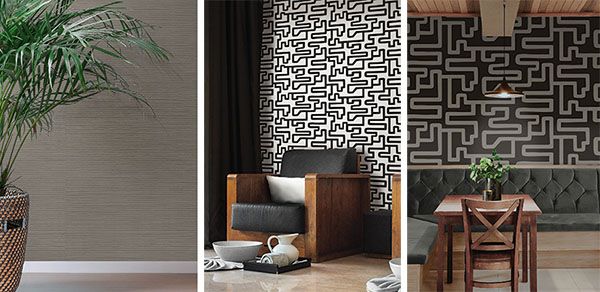 Join in as we meander the winding road to Hana with the Hula series. This group includes Hula, a deep grass cloth texture with a tropical flair, Hula Hana, a mid-scale contemporary graphic and Hula Big Hana, an expansive, large-scale option. The hand-drawn artwork creates just the right amount of tension between positive and negative space to feel modern. And Hula Big Hana, let's not forget to mention, it's dramatic! Lush colors and soothing neutrals offer an air of relaxation for a balanced collection. The Hula series: Hula, Hula Hana and Hula Big Hana, just what you need.
View Hula swatches.
View Hula Hana swatches.
View Hula Big Hana swatches.
---
2021/12/06
Introducing Vycon INVISICAP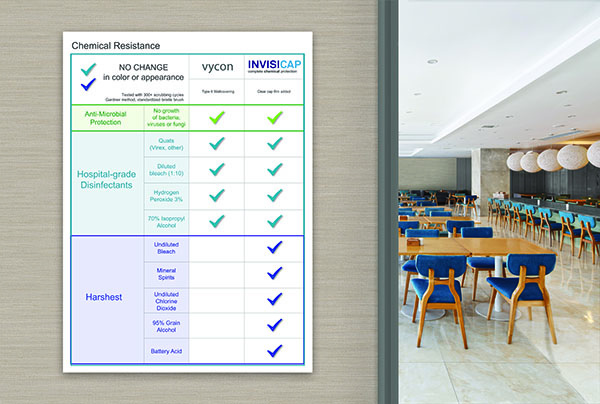 Applying INVISICAP PVF film to Vycon's industry-leading designs will ensure complete chemical protection for your wallcovering, while preserving the nuanced, natural looks of Vycon silks, linens, woven textures, and other designs.

INVISICAP protects against all cleaning and disinfecting chemicals, in any concentration. When a facility needs natural-looking wallcovering with no cleaning limitation, specify INVISICAP.

32 Stock items available by the yard. Additional custom options available in almost any pattern (400 yd min).

View swatches.
---
2021/03/23
Vycon introduces Dash-ing and Sherwood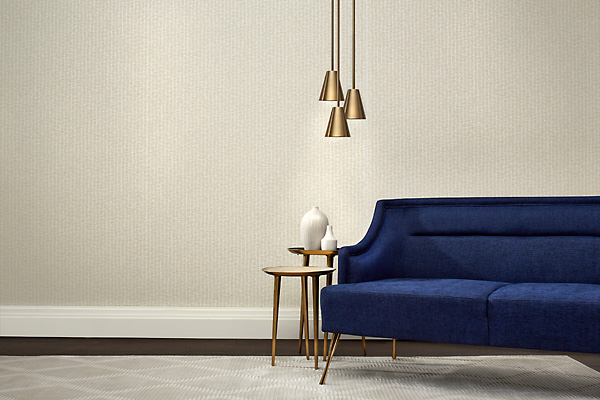 DASH-ING
The whimsically painted brushstrokes show the motion of the artist at work. Full of personality, Dash-ing will add vibrancy to your space in striking shades such as Red All Over or Burnished Gold. Colorways like White-out or Neutral are equally enticing and textural but offer a far more subtle effect. View swatches.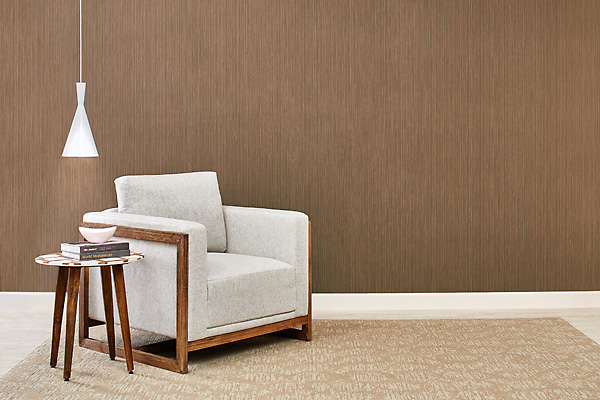 SHERWOOD
Sherwood offers a time-honored smooth wood grain, for a polished natural space. The collection features a full-color palette, with classic wood tones such as Oak and Walnut alongside modern interpretations such as Sycamore and Wenge. View swatches.
---
2020/03/29
Vycon introduces Fresh Plaid, Fresh Mesh and Shape Shift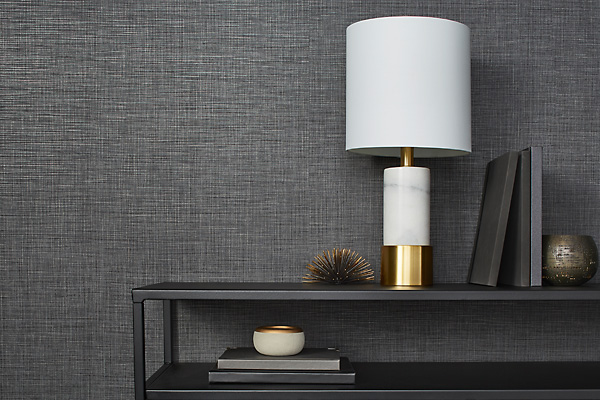 FRESH MESH
Fresh Mesh resembles a closely woven linen fabric. Some of the 24 colors are accented with metallic, while others offer a matte option. All coordinate with the large-scale pattern, Fresh Plaid. View swatches.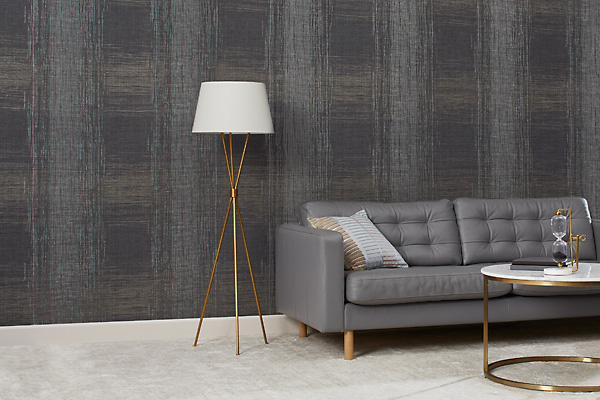 FRESH PLAID
Move over grandpa plaid, Fresh Mesh is here. Contemporary light brushstrokes create the large-scale open weave, which tops a bi-directional linen. Emulating menswear textiles, it features a mix of 6 metallic or matte colorways that coordinate with Fresh Mesh. View swatches.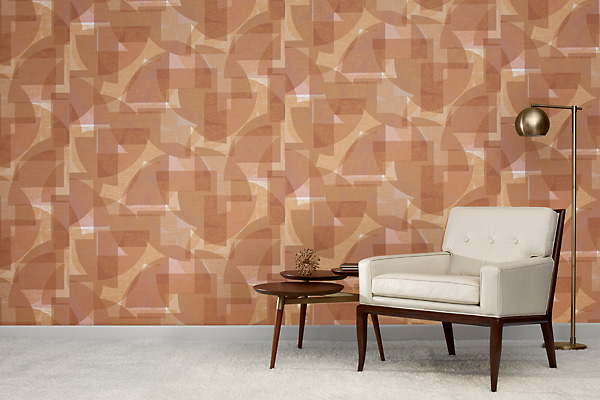 SHAPE SHIFT
Inspired by the Milan-originated Memphis style of the 1980's, Shape Shift pays homage to Ettore Sottsass' movement with its bright colors and large-scale, graphic design featuring bold, layered geometric shapes. View swatches.
---
2019/12/02
Vycon introduces Woodn't it be nice, Make it Mylar and Hide & Silk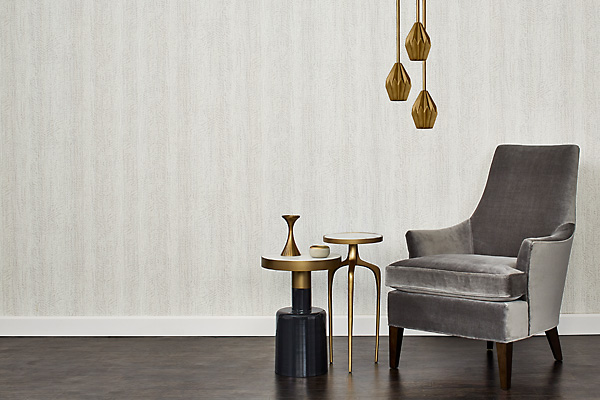 WOODN'T IT BE NICE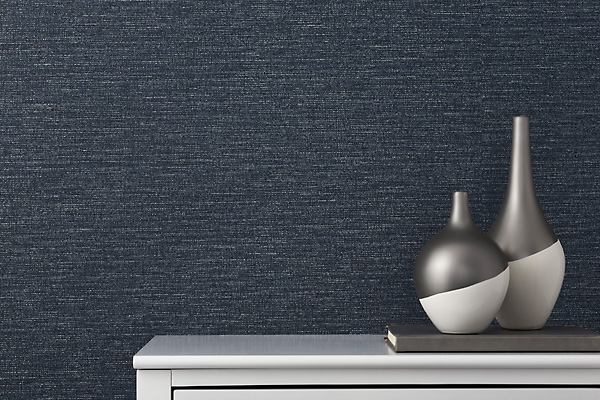 MAKE IT MYLAR
HIDE & SILK
---
2019/8/25
Vycon introduces Set in Stone, In-Stitches and In a Flash.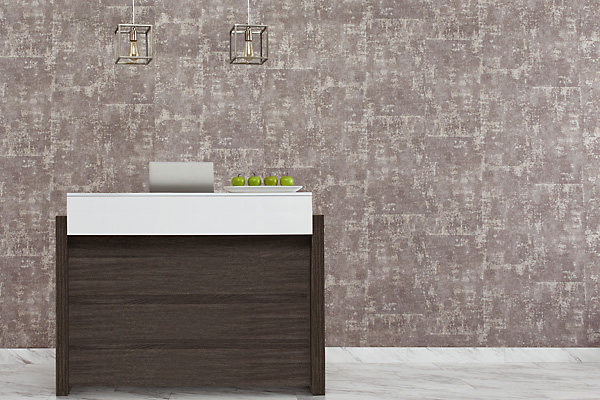 SET IN STONE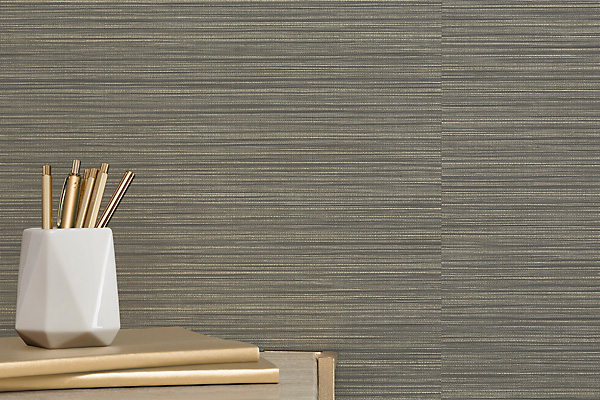 IN STITCHES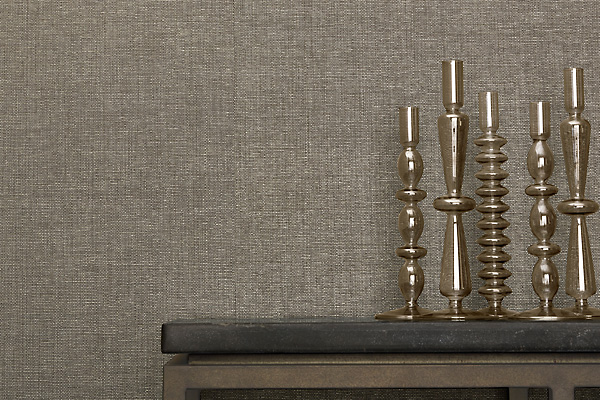 IN A FLASH
---
2019/02/28
Vycon Introduces Bobbin' Weave and Stagger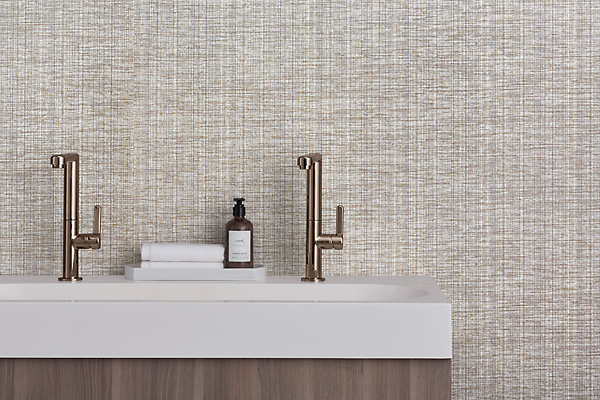 BOBBIN' WEAVE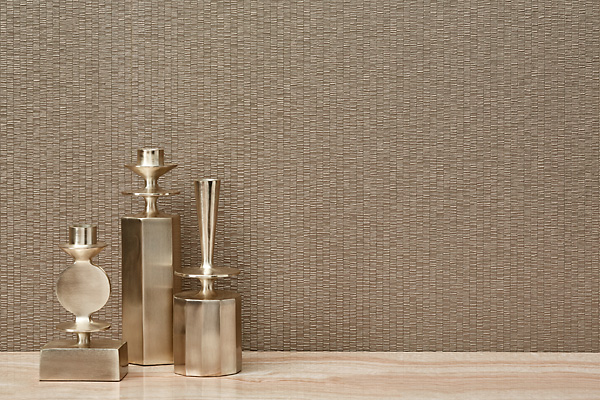 STAGGER
---
2018/11/26
Vycon summons your inner artist with Watercolor, Watercolor Canvas and Gallery Silk.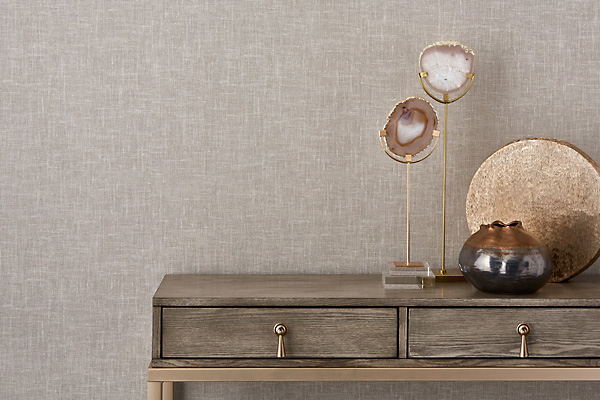 WATERCOLOR CANVAS
Create your masterpiece with Watercolor Canvas. Textural nuances showcase contrasts that can be seen at a distance. The inspiring range of 32 hues includes a mix of versatile neutrals and complementary accent colors. View swatches.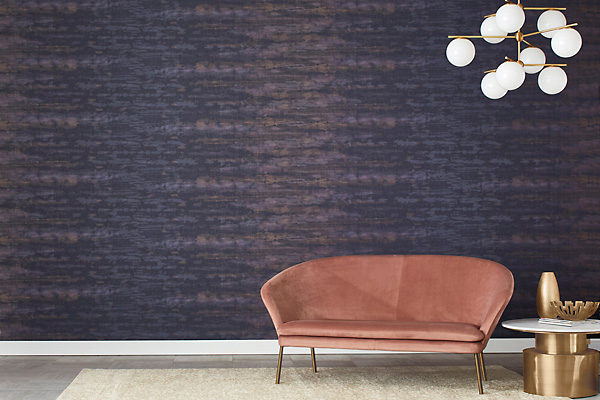 WATERCOLOR
Multiple colors disperse effortlessly as if brushstrokes skipped across the wall in Watercolor. The essence of beautiful ink spots is apparent in this large-scale organic yet graphic design. This painterly appeal offers a palette of 8 colors such as Frosted Cloud, Ivory Blush and Twilight Mist, to name a few. View swatches.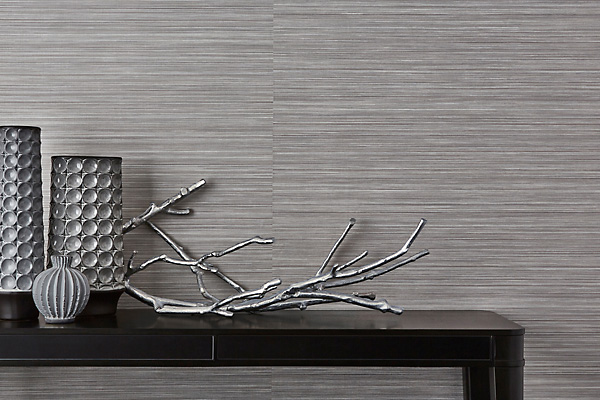 GALLERY SILK
Gallery Silk is a work of art, perfect for display in all interiors. Variations of color within the silk are seen in the soft horizontal strokes. Ready to go on exhibit are 24 multi-color and monochromatic tones such as Raw Sienna, Warm Ochre and Burnt Umber. View swatches.
---
2018/09/24
Vycon introduces its latest designs…the alluring Divine Incline and Divine and the charming Savannah.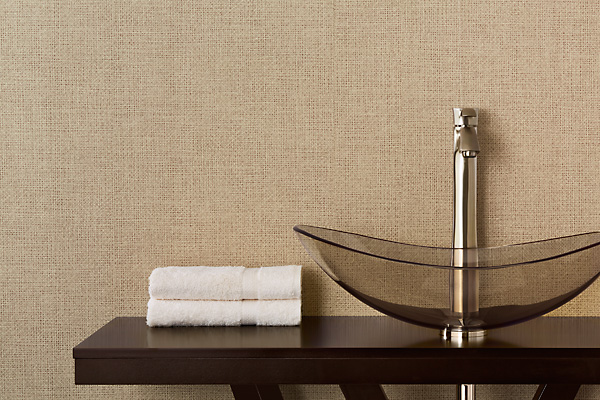 DIVINE
Texture is everything in Divine. This spirited weave imparts a smart, chic look for your space, with its soft lines gilded with metallic touches. The perfect match to Divine Incline, its mid-scale graphic coordinate, Divine offers 24 hues. View swatches.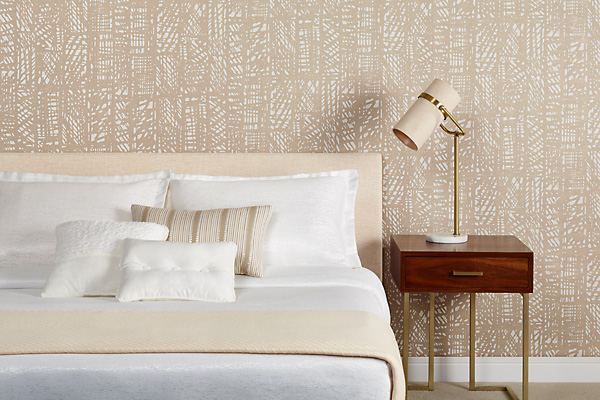 DIVINE INCLINE
Rectangular boxes filled with slanted diagonal strokes creates the fun, quirky graphic of Divine Incline. This mid-scale pattern adds a touch of mystery as you peek through its layers to the chic ground of Divine. Divine Incline has 12 colors that coordinate with Divine. View swatches.
SAVANNAH
Let the warm winds and southern charm of Savannah set the mood for this modern chunky grasscloth. Color mixes flicker across the strands of Savannah offering effortless accent colors. Grazing the plains of this captivating pattern are 18 matte and metallic SKUs such as Cobble Street, Magnolia, and Spanish Moss. View swatches.
---
2018/02/22
Angles, Angles everywhere….Vycon Wallcovering previews its next introductions.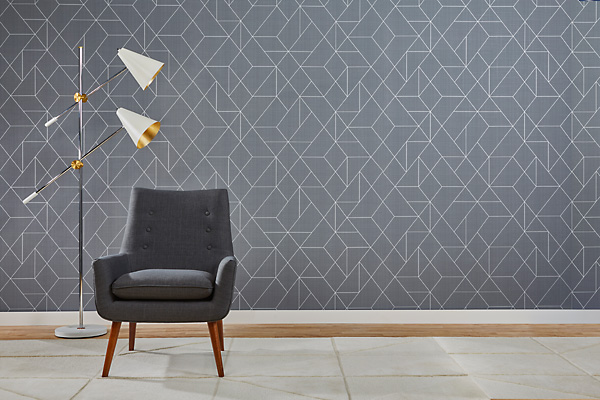 ANGLES MAX
Resembling its name, Angles Max is a large-scale geometric that makes a statement in any space. This design features thin lines for a clean modern look. 13 hues are a mix of contemporary neutrals and brights and share colors with its companion, Angles, and coordinate Angles Silk. View swatches.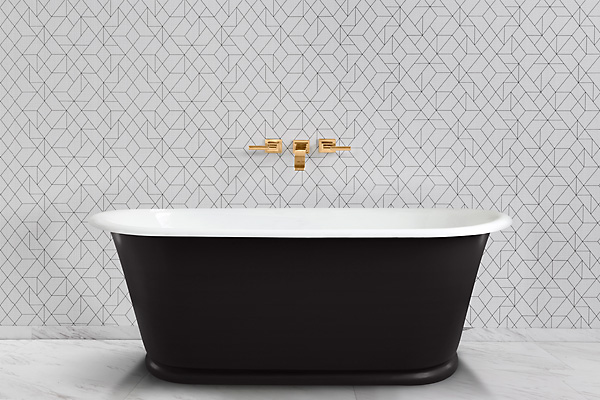 ANGLES
Joining the linear trend, Angles is a mid-scale contemporary graphic with just the right amount of edge. This design is smaller in scale then its companion, Angles Max, and coordinates with Angles Silk. View swatches.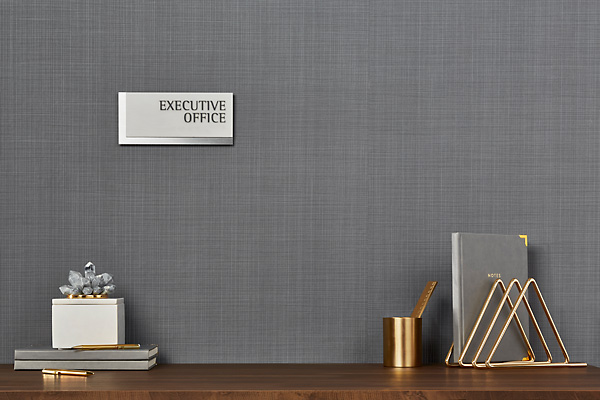 ANGLES SILK
Subtle bi-directional contrasts in Angles Silk blur the lines between a linen and silk appearance. Mid-century influences are present in the 24 colors that coordinate with Angles and Angles Max. View swatches.
---
2017/11/15
Vycon EVOLUTION introduces 5 new patterns, which includes two ARTISTE designs.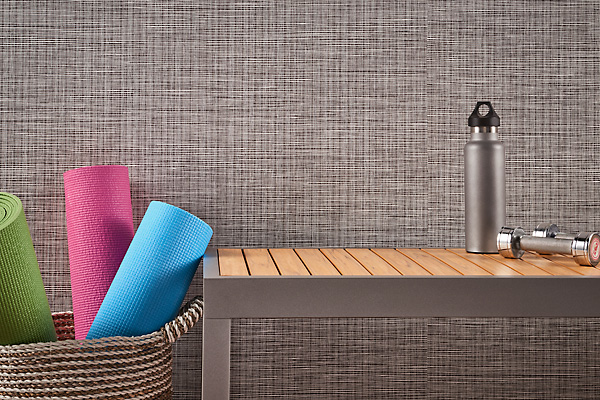 SASS-A-GRASS
Find a grasscloth with spunk in Sass-A-Grass. Pops of color weave through neutral grounds creating a mid-scale grid overlay. This twist on a classic pattern showcases 25 unexpected colors such as Foxtrot, Wild Lavender and Poppy Field. View swatches.
PANACHE
Classic linen meets mid-century colors in Panache. A fresh take on this popular texture, multiple hues in Panache's 24 color offering pair with each Panache Plaid perfectly. Pattern selection for adjoining areas is a breeze with this long color line which features Fairy Dust, 24 Karat and Fireglow. View swatches.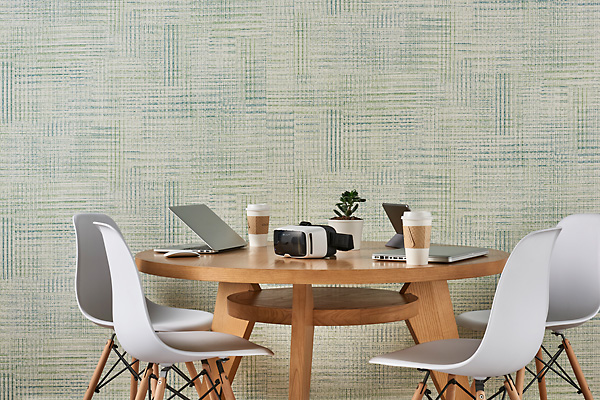 PANACHE PLAID
Reimagine plaid with Panache Plaid. A multi-grid asymmetrical design featuring a mix of neutrals and retro colors gives this traditional checkered pattern a modern approach. Get into the groove with 12 hues that pair with its linen companion, Panache.
Vycon is proud to premiere its first ARTISTE patterns, Patina Stone and Patina Stripe.
The French term for craftsman, ARTISTE, is a new category of artisan-quality, layered wallcovering. This technical breakthrough and innovative process reveals a hand-crafted look, with multi-tonal, immersion-washed, and strong dimensional qualities. Exceeding Type II performance standards, ARTISTE exemplifies beauty and durability.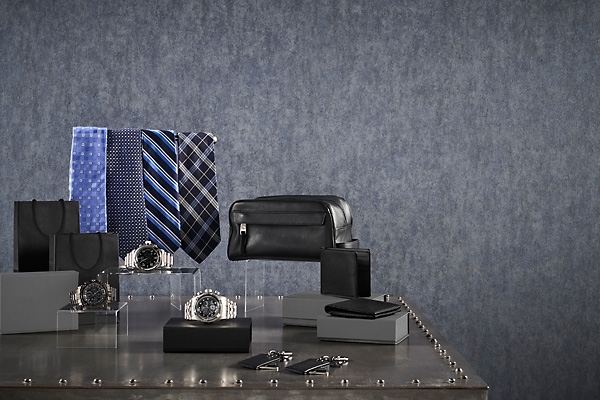 PATINA STONE
Patina Stone mimics the artisan techniques used by master craftsmen. The essence of weathered, layered stone can be seen across the 18 colorways that coordinate with Patina Stripe. View swatches.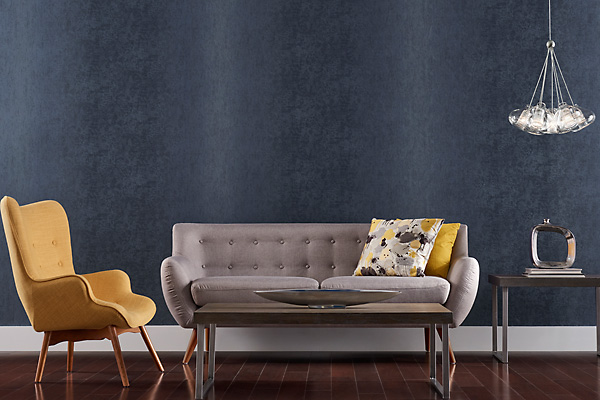 PATINA STRIPE
Make a statement with Patina Stripe. See the impact of a large-scale vertical design and the subtle sophistication of aged stone and ombre effects all in one. The exquisite uniqueness is apparent in the 8 hues that partner with Patina Stone.
---
2017/1/25
Weave your way through Entwined and Twine from Vycon.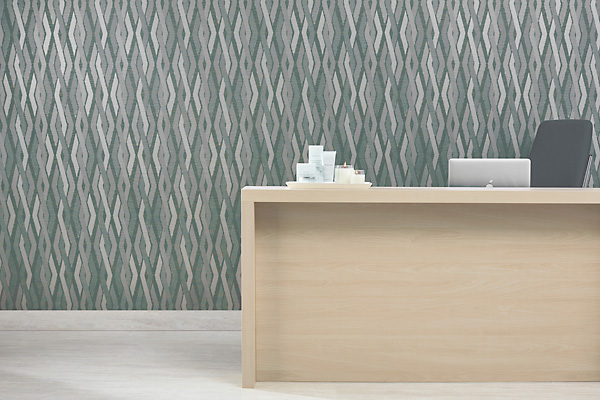 ENTWINED
Chain links jump off the wall in Entwined. The illusion of dimension is emphasized by multi-tonal colors tangled together in this large-scale design. Nine bold and elegant colorways such as French Twist, Wicked Grooves and Platinum Waves, match perfectly with Twine.
TWINE
Delicate horizontal threads are woven together in Twine. Twisted strands touched with metallic resemble the luxury of finely spun silk. Ivory Spool, Cashmere and Silver Stands are just a few of the 24 colors that blend with its coordinate, Entwine. View swatches.
Connect with Entwined and Twine.
---
2016/11/02
Vycon Wallcovering releases Woodland Block, Woodland and Reflection.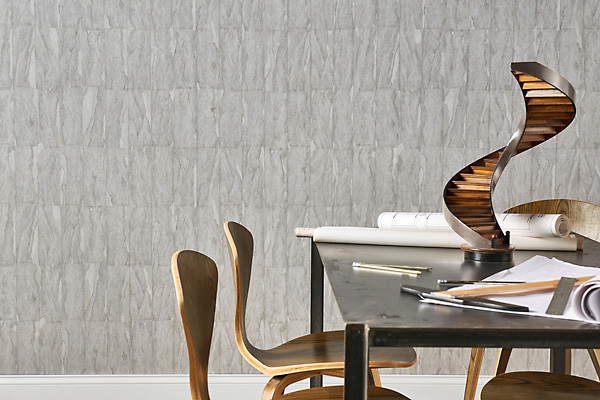 WOODLAND BLOCK
Inspired by nature's intricate, unpredictable patterns of bark, Woodland Block frames the feeling in rectangular sections. The organic spaces are filled with metallic, adding to the overall texture. Cerused Ash, Grey Acacia and Butternut highlight the seven colors that pair with Woodland Block.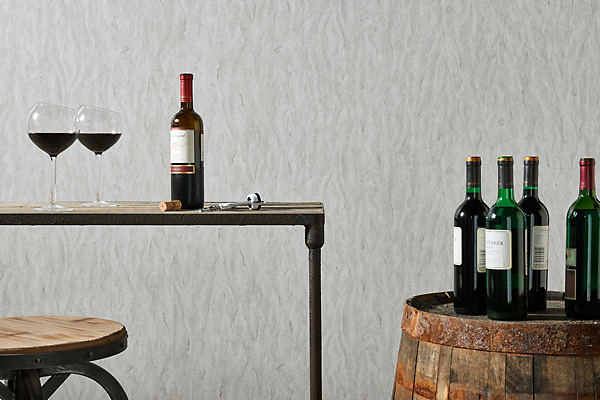 WOODLAND
Imagine walking in a tree lined forest and you'll find Woodland. Mimicking the flowing grain of bark, metallic peeks through 18 natural colors, such as Sycamore, Jasper and Hemlock, which coordinate with Woodland Block.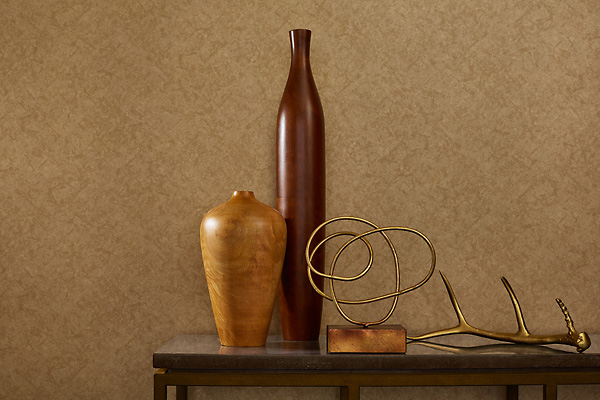 REFLECTION
Mirror, mirror on the wall, Reflections is the fairest of them all. Reminiscent of smoky antique mirrors, layered reflective qualities blend with a mottled texture. Catch a glimpse of Ever Young, Snow White and Wicked Envy, some of the 24 spellbinding hues. View swatches.
---
2016/09/01
Vycon introduces, Safari Sun and Safari, its latest exploration.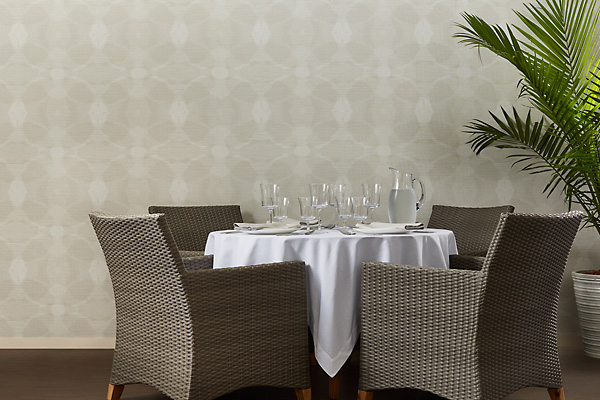 SAFARI SUN
Safari Sun is tribal chic! A layered mirage is created by the essence of the solstice sun and woven jute texture. Bask in the global sophistication of six monochromatic colors touched with metallic in this large- scale design.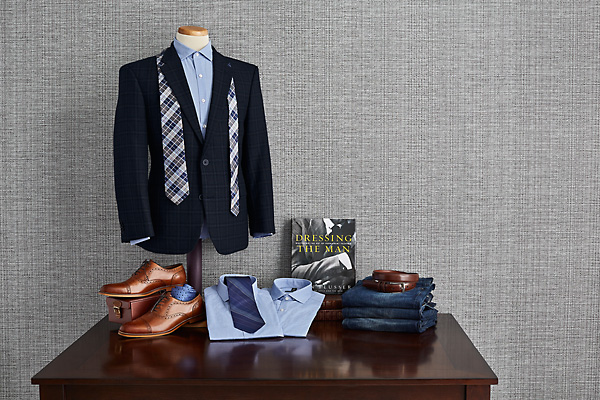 SAFARI
Chunky weaves found in worldly exotic markets inspired Safari. A wide range of natural fibers, such as raffia and sisal, evoke thoughts of traditional straw hats. Nineteen desert-inspired colors mimic hand-dyed neutrals and pairs with Safari Sun. View swatches.